New Paychart – Salary Increase
As provided for in Article 9.1 of the NPMHU 2019 National Agreement, the wage scales for all Mail Handler employees will be adjusted upward effective November 21, 2020. This is the second of three guaranteed wage increases provided for in the 2019 contract. Specifically, with regard to career employees: Effective November 21, 2020 – the basic annual salary for each grade and step of Table One and Table Two shall be increased by an amount equal to 1.0% of the basic annual salary for the grade and step in effect on September 20, 2019.
In addition to the general increases provided in Section 9.1 above, MHAs will receive an increase of 1.0% annually, for a total of 2.1% effective November 23, 2019, 2.0% effective November 21, 2020.
Click here to view or download a chart which reflects the new wage rates, for both career and MHA Mail Handlers, resulting from these November 21, 2020 contractual increases.
Consistent with Article XIV, Section 3 of the NPMHU National Constitution, we will be implementing a regular membership dues increase of one dollar ($1.00) per pay period to correspond with the second guaranteed wage increase provided for in the 2019 National Agreement.  We are attempting to time the dues increase to coincide with the wage increase that is effective on November 21, 2020 (Pay Period 25) to be reflected in paychecks issued on December 11, 2020.

Open Season – Benefits & Annual Leave 
Open Season begins 11/9/20 and ends on 12/14/20 for FEHB (Federal Employees Health Benefits), FEDVIP (Federal Employees Dental & Vision Insurance Program), ALE Program (Annual Leave Exchange), FLTCIP (Federal long Term Care Insurance Program) and the USPS Health Benefits Plan for Non-Career (MHA) employees.
Additional information can be found at www.liteblue.usps.gov/openseason  and www.opm.gov/insure
UPDATE ON RETROACTIVE PAY
The retroactive pay due under the terms of the 2019 -2022 National Agreement will be included in the October 30, 2020 paychecks. There are multiple variables that determine how much any one employee will receive.
The retroactive general wage increase period was November 23, 2019 through April 24, 2020. The retroactive period for the March COLA increase was February 29, 2020 through April 24, 2020.
Retirees received retroactive pay for the hours that they were actively employed and worked from November 23, 2019 until their retirement date if their date was prior to April 24, 2020. This check was sent to their last office of record.
The amount an employee received was based on the following:
Actual hours worked
Step and level of pay during the retroactive pay period. For example a Level 5, Step P employee will not receive the same pay as a Level 4, Step A employee.
Overtime hours worked
Any shift differential worked, such as Sunday Premium, Night Differential, etc.
Leave Hours paid
LWOP Hours used
Women's Caucus Newsletter
Local 300 Breast Cancer Shirts 
The Local 300 Women's Caucus has Breast Cancer T-Shirts on sale now. Local 300 will be subsidizing the cost to offer the shirts at a reduced cost.
 T-SHIRTS ARE $10.00 
SIZES ARE:  S-4XL
 SEE A SHOP STEWARD TO PLACE YOUR ORDER
ALL MONEY IS DUE BY OCTOBER 2, 2020
LOCAL 300 WILL MAKE A $1,000 DONATION TO THE MEMORIAL SLOAN KETTERING CANCER CENTER
Breast Cancer Shirt 2020 (pdf)
NPMHU Endorses Joe Biden for President
NPMHU members are facing unprecedented times. Despite the USPS being the most trusted federal agency, often it feels as if our work is undervalued and unappreciated by elected officials.  We've seen attacks against our rights as workers, the service we provide, and the constitutionally protected institution we work for. We need a leader who will stand with us. We need Joe Biden.
Over the past four years, NPMHU members have faced direct threats on their livelihood from the Trump Administration. We saw a White House Postal Task Force that attacked postal labor, recommended taking away our collective bargaining rights and increasing the cost of our retirement benefits. The Task Force also made efforts to undermine the Postal Service itself, calling for moving away from a six-day delivery; expanding third-party partnership, which could lead to privatization; and, increasing postal rates, pricing customers out of the market.
President Trump further attacked the Postal Service in the media, calling it a "joke." Our union knows how dedicated mail handlers and all postal employees are to their jobs; we take our work seriously. We ensure that every single American household and business receive their mail. We deliver needed medication to the elderly and our veterans. We make sure Social Security and Medicare checks get out on time. We deliver home goods to the house-bound during the pandemic. We keep family and friends connected.
Joe Biden has a history of supporting the United States Postal Service and postal workers and has committed to supporting the dedicated men and women of USPS. As a Senator, he fought against privatization; spoke out on the need for a six-day delivery; and has committed to protecting the universal service obligation, ensuring that every American, regardless if they are in urban, suburban, or rural areas, gets the same quality service. Joe Biden will support putting the Postal Service on a sustainable path forward and will ensure quality service continues.
Additionally, Joe Biden is a proven advocate for members of the labor movement, understanding its value to the growth of the middle class with the development of paid-leave, health and retirement benefit provisions, and the 40-hour work week. In contrast to the Trump Administration's attacks on collective bargaining rights through the use of executive orders, Joe Biden will be a leader who will support and protect the men and women of labor.
Furthermore, Joe Biden picked a pro-postal, pro-labor running mate with Senator Kamala Harris. Currently, she's the co-sponsor of several pieces of legislation protecting USPS from privatization; supporting the organization rights of public sector employees; and aiding the Postal Service through emergency appropriations in response to the coronavirus pandemic.
We're facing a turning point in postal history. We need strong leadership that will have our backs. I urge every member of NPMHU to support Joe Biden and Kamala Harris, just as they'll support us. – Paul Hogrogian, National President NPMHU
Statement of Paul V. Hogrogian, National President of the National Postal Mail Handlers Union, on the Endorsement of Joe Biden for President(pdf)
Endorsement of Carolyn Maloney for Congress (NY-12th District) 
NPMHU Local 300 has endorsed the candidacy of Carolyn Maloney for re-election of the 12th District of New York in the United States House of Representatives.
New York's 12th Congressional District is located in New York City. It includes most of the East Side of Manhattan and Roosevelt Island and extends across the East River into the Boroughs of Queens (including Astoria, Long Island City, and parts of Woodside) and Brooklyn (including Greenpoint).
https://www.carolynmaloney.com
Maloney, Carolyn – Endorsement – Gen. Elec. 9-15-20
Endorsement of Grace Meng for Congress (NY-6th District) 
NPMHU Local 300 has endorsed the candidacy of Grace Meng for re-election of the 6th District of New York in the United States House of Representatives.
The 6th District of New York represents towns in Northern Queens: Auburndale, Bayside, Elmhurst, Flushing, Forest Hills, Glendale, Kew Gardens, Maspeth, Middle Village, Murray Hill, and Rego Park.
https://www.gracefornewyork.com
Meng, Grace – Endorsement – Gen. Elec. 9-15-20
Endorsement of Josh Gottheimer for Congress (NJ-5th district)
NPMHU Local 300 has endorsed the candidacy of Josh Gottheimer for re-election of the 5th District of New Jersey in the United States House of Representatives.
The 5th District of New Jersey represents towns in the northernmost part of the state, which includes parts of Bergen, Passaic, Sussex, and Warren counties.
Gottheimer, Josh – Endorsement – Gen. Elec. 9-15-20
Endorsement of Tom Suozzi for Congress (NY-3rd district)
NPMHU Local 300 has endorsed the candidacy of Tom Suozzi for re-election of the 3rd District of New York in the United States House of Representatives.
The 3rd district represents includes most of the North Shore of Long Island. It expands from northwestern Suffolk County, across northern Nassau County and into far northeastern Queens. Long Island communities in the district include Manhasset, Huntington, Northport, Commack, Dix Hills, Plainview, Bethpage, Hicksville, Syosset, Glen Cove, Roslyn, Port Washington and Great Neck. Queens neighborhoods in the district include Little Neck, Whitestone, Glen Oaks and Floral Park.
Tom Suozzi has supported us on all issues on Capitol Hill dealing with the Postal Service and we support him. 
Suozzi, Tom – Endorsement – Gen. Elec. 9-15-20
Local 300 Scholarships Awarded
2020 BERNARD HOLLOWAY, JOHN A. ORCHARD, EDWARD J. MILLER, WALLY MERWIN, AND AARON PRESTON MEMORIAL SCHOLARSHIP AWARDS
The Local Union Council and members of Local 300 of the National Postal Mail Handlers Union are proud to announce the winners of the annual competition for the Bernard Holloway, John A. Orchard, Edward J. Miller, Wally Merwin, and Aaron Preston Memorial Scholarship Awards.
This year we have awarded five (5) $1,000 scholarships for study at an accredited college, university, or trade school.
Marina Rezk – Daughter of Samah Rezk of the DVD Branch. Marina is attending Rutgers University and her major field of study is Pharmacy.
Christine Philipose – Daughter of Anil Philipose of the Western Nassau Branch. Christine is attending St. John's University and her major field of study is Pharmacy.
Beshoy Rezk – Son of Samah Rezk of the DVD Branch. Beshoy is attending Middlesex County College and his major field of study is Engineering.
Henry Lagreca – Son of Nicholas Lagreca of the NYC Branch. Henry is attending Eastern Connecticut State University and his major field of study is Sports medicine.
Angelica Cimirro – Daughter of Lawrence Cimirro of the DVD Branch. Angelica is attending Kean University and her major field of study is Elementary Education.
Endorsement of Jackie Gordon for Congress (NY-2nd district)
NPMHU Local 300 has endorsed the candidacy of Jackie Gordon to the 2nd District of New York in the United States House of Representatives.
The 2nd district represents the following towns on the south shore of Long Island: Amityville, Babylon, Bay Shore, Bayport, Bethpage (portion), Blue Point, Bohemia, Brentwood, Brightwaters, Cedar Beach, Central Islip, Copiague, Deer Park, Dix Hills (portion), East Islip, Farmingdale, Gilgo, Great River, Hauppauge (portion), Holbrook, Islandia, Islip, Islip Terrace, Levittown, Lindenhurst, Massapequa, Massapequa Park, Nesconset (portion), North Babylon, North Massapequa, Oak Beach, Oakdale, Ocean Beach, Patchogue (portion), Ronkonkoma, Sayville, Seaford, Wantagh (portion), West Babylon, West Islip, West Sayville, Wheatley Heights, Wyandanch
Jackie Gordon is a combat veteran (military police), an educator, and a public servant, and now running to be the first congresswoman from New York's 2nd district. This is an open seat following Pete King's retirement.
Here is the link to Jackie Gordon's campaign video. She has also earned the endorsements of EMILY's List, Citizens United, VoteVets, and the Congressional Black Caucus PAC, NYSUT, SEIU1199, the New York State Nurses Association, and New York AFL-CIO.
https://jackiegordonforcongress.com
Gordon, Jackie – Endorsement – Gen. Elec. 9-14-20
Happy Labor Day!
YouTube message from the NPMHU National President Paul Hogrogian and National Secretary-Treasurer Mike Hora.
https://www.youtube.com/embed/JlltN2wAWwI
GET OUT AND VOTE on 11/3/20!!!
This will be the most important election of our lifetime! We need to insure that Postal friendly candidates are elected.
Are you registered to vote? Do you know how to register?  Do you need to know polling locations? What valid forms of ID?  How to apply for absentee/vote by mail?
Voter information can be found at www.canivote.org. it is all organized by state. Should you have any questions, contact Local 300 Headquarters.
COLA $188 added to wages
COLA adjustment effective 8/29/20 MH Payscale – PP19-20 8-29-20
Day of Action 8/18/20 10AM Union Square with Cong. Maloney
Come out and join NY Congresswoman Maloney on Tuesday supporting the Postal Service at Union Square, 14th Street (South Side), Manhattan at 10AM
Local 300 Power Banks
Local 3oo "Power Banks" are being distributed to all members. They can charge just about every cell phone and other electronic devices with the included plugs or to the USB outlet. If you didn't get yours, see your Branch President or Steward.
Senator Schumer calls on Congress to fund billions in COVID aid to Postal Service
On August 12, 2020 NY Senator Chuck Schumer held a press conference in front of Mid Island P&DC in Melville on Long Island. Mail Handlers Union Local 300 President Kevin Tabarus stood with other union officials from the NALC and the APWU.
Schumer called on lawmakers to put $25 billion into the United States Postal Service. Schumer says USPS has been increasingly struggling due to several reasons, including because more people are doing business electronically during the pandemic, COVID-19 expenses, etc.
We applaud Senator Schumer for his support and we support him!
Text of Newsday Article 8/12/20
Senator Schumer's Press Release 8/13/20
Click here for additional photos
NY Congresswoman Carolyn Maloney visits Morgan P&DC
On August 12, 2020 Congresswoman Maloney (NY 12th district) visited the Morgan P&DC in midtown Manhattan with Local 300 Vice President Yvette Johnson, New York City Branch President Irene Delgado, and Treasurer Wilfredo Delgado. Representative Carolyn B. Maloney (D-NY), is the Chairwoman of the Committee on Oversight and Reform. She has recently introduced the "Delivering for America Act" to Protect Delivery Standards for U.S. Postal Service. She has supported the USPS and we support her.
2019-2022 NPMHU National Agreement
A pdf version of the new contract is available here. Paper copies of the new contract are being mailed to all members home address.
USPS Statement on Washington Post – CARES Act Lending Authority Act
July 30, 2020– USPS issues press release regarding the terms of the loan agreement between the Postal Service and the Department of Treasury regarding the $10 billion loan as provided within the Coronavirus Aid, Relief, and Economic Security (CARES) Act (P.L. 116-136). Part of the terms require the Postal Service to report to the Department of Treasury on aspects of the agency's financial status. The press release also responds to an article in the Washington Post, found here, that concludes the terms of the loan will impact future pricing and administration.
Currently, there is bipartisan legislation within the Senate that would remove these term agreements.
Re: US Postal Service Statement on Washington Post CARES Act Lending Authority Act (pdf)
July 30, 2020- USPS Press Release Post
https://www.npmhu.org/media/news/usps-and-department-of-treasury-come-to-terms-on-loan
Local 300 Face Coverings
Local 3oo masks are being distributed to all members. The masks are antimicrobial and washable. If you didn't get yours, see your Branch President or Steward. Please machine wash in cold water. Tumble dry low heat 0r just air dry.
Call to Action: Urge Senate to Support USPS
As you are aware, the Postal Service is facing a dire financial situation due to the COVID-19 pandemic. The Postal Regulatory Commission and the USPS Board of Governors have stated if financial assistance is not provided and a loss of revenue and volume cannot be counteracted, USPS will not have sufficient means to meet service demands.
In May, the House of Representatives passed the HEROES Act (H.R. 6800), which called for $25 billion in emergency funding to the Postal Service, and removed borrowing stipulations imposed by the Department of Treasury. Similar language to this was introduced as a stand-alone bill by Senators Collins (R-ME) and Feinstein (D-CA), S. 4174. Additionally, there have been calls for hazard pay of an additional $13.00 an hour in order to adequately compensate essential workers who are putting their health and their families' health at risk during this time.
These measures need to be considered by members of the Senate as they are currently developing language for the next stimulus package. It is imperative that your Senators understand the value of the Postal Service for every American and how providing financial assistance will benefit you as a constituent and as a mail handler.
Click here for a letter to share with your elected officials in the Senate, asking them to support the Postal Service. I urge you to reach out to Senators as soon as possible as it is expected language will be ready by Monday, July 20. Senators also have the option to email them through their websites, and their contact information can be found at www.senate.gov.
Thank you for helping with NPMHU's grassroots efforts!
Extension of COVID-19 Related Memorandum
The following Memorandum Of Understanding between the National Postal Mail Handlers Union and the United States Postal Service have been extended through September 25, 2020.
1. MOU – Temporary Expanded Sick Leave for Dependent Care During COVID – 19
2. MOU – Temporary Additional Leave for MHAs This extension provides the Mail Handler Assistants (MHAs) the opportunity to utilize the 80 hours of paid leave provided in the original MOU, it does not provide an additional 80 hours.
3. MOU – Temporary Exception Period – COVID – 19
4. Liberal Changes of Schedule and Leave Letter dated March 23, 2020.
Extension of Memoranda COVID -19 July 2020
Doug Durr – Former Greater Newark Branch President
On behalf of Local 300, we would like to extend condolences to the family of Douglas Durr. Doug set the standard for Local 300 (The Greater Newark Branch). His years of solid dedication to USPS and his devotion to ethics and integrity made him a team leader unlike any other. He was a man who was respected by craft, management, associates and competitors alike.
Please accept our deepest sympathies and those of the membership at this sorrowful time.
Contact Congress Now!!!
Call to Action – H.R. 2
In April, as part of their request for financial assistance to respond to the COVID-19 pandemic, the USPS Board of Governors requested $25 billion for "shovel-ready" projects to modernize facilities. This request was included in the House Transportation & Infrastructure Committee's H.R. 2, the Moving Forward Act, which passed in committee and is expected to be voted on by the full House the middle of next week.
These funds are invaluable to the Postal Service during this time: it will allow USPS to make necessary updates to facilities, that will provide savings in the long run and create jobs during a time in which our nation's unemployment rates are rising.
Below is a letter to  send to your elected officials in the House of Representatives, asking to vote in favor of H.R. 2 as it supports the Postal Service.
As this vote is happening next week, I urge you to reach out to Representatives as soon as possible. If you have the contact information for your House who handles postal issues, send the text of the letter to them directly. Representatives also have the option to email them through their websites, and their contact information can be found at www.house.gov.
The COVID-19 pandemic is having a detrimental impact on the Postal Service's finances. It is imperative to support legislation that provides an economic resource to the USPS.
Temperature Checking to Begin
The Postal Service will begin Temperature Checking at pilot sites for employees entering postal facilities.
5-13-20 USPS delivers Mandatory Stand-Up Talk Proof of Concept Temperature Test to be Conducted in Two Postal Districts
5-13-20 USPS provides NPMHU with Power Point Presentation on Proof of Concept Temperature Taking
Local 300 Memorial Scholarship Open
The Local Union Council and members of Local 300 of the National Postal Mail Handlers Union are proud to announce the annual competition for the Bernard Holloway, John A. Orchard, Edward J. Miller, Wally Merwin and Aaron Preston Memorial Scholarship Awards.
We will be awarding five (5) $1,000 scholarships for study at an accredited college, university, or trade school. The scholarships are available for regular members, a legal spouse of a regular member, children, grandchildren, and legal wards of our regular members.
The five brothers memorialized in this scholarship devotedly served the cause of Mail Handlers and enabled us all to benefit.
In awarding these scholarships we re-affirm our commitment to increasing the educational opportunities available to our members and to the working class. We also reaffirm our commitment to struggle for knowledge and genuine democracy in order to create a better world in which an informed and enlightened people can best decide their fate.
All members are urged to read the "Requirements" for consideration and to urge every eligible applicant (a regular member, or a legal spouse of a regular member, a regular union member's child, grand-child, or legal ward who meets the scholarship requirements) to apply.
Completed applications must be received at Local 300 headquarters by August 11, 2020
2020 Local 300 Scholarship Application
Childcare for NYC Residents
Thanks to the hard-work of NY Congresswoman Carolyn Maloney, USPS employees are eligible for free Childcare. This is open to all Essential Service Workers residing in New York City.
Enrich Centers Childcare for Essential Service Workers
NJI-NDC Member Nair Tiliouine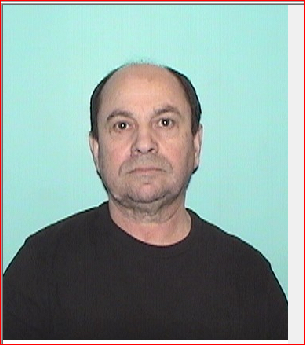 It is with regret and sorrow that we announce the passing of Local 300 NDC Mail Handler, Nadir Tiliouine. His death is attributed to complications from the Coronavirus. Brother Tiliouine passed on April 29, 2020.
Nadir began his career with the USPS in 2005; he worked in the NJI-NDC in Jersey City. He was a kind man, known for being a hard worker. Nadir was 62 years old. Please watch local sources for funeral arrangement details.
Please keep Brother Tiliouine's family and loved ones in your thoughts and prayers.
New Postmaster General
The Postal Service Board of Governors has selected Louis DeJoy to serve as the nation's 75th Postmaster General, effective June 15.
DeJoy, a business executive with more than 35 years of experience, previously served as chairman and chief executive officer of New Breed Logistics. He has spent decades collaborating with USPS, Boeing, Verizon, Disney, United Technologies and other public and private companies to provide supply chain logistics, program management and transportation support.
Click here for the announcement from the USPS
Click here for an article from the Washington Post, referring to the new PMG as a, "Top Republican fundraiser and Trump ally."
Click here for an article from Government Executive "New Postmaster General Met With Tepid Response From Mailers, Employees"
All COVID-19 issued material/information by the Postal Service at the National Level and filtered down to the USPS Areas, Districts, and Installations should be found on the website. Information includes Stand-Up Service Talks, Questions & Answers, Families First Coronavirus Act leave FFCRA. If you are not receiving Stand-Up Talks, see a steward, your branch president, or contact Local 300 HQ at (212)431-0040. https://liteblue.usps.gov/lite-blue/covid19/welcome.htm  
National NPMHU President Hogrogian's April 29, 2020 Message to the Membership
April 29, 2020
Brothers and Sisters,
Mail Handlers and postal workers from around the country continue to courageously perform essential federal service under the extraordinary circumstances created by the COVID-19 pandemic.
When I last reported to you regarding the coronavirus (COVID-19) on April 8, 2020, there were 436 postal workers who were confirmed to be COVID-19 positive and 400 employees presumed to be positive for a total of 836 infected employees.  The latest numbers (as of April 28, 2020) show 1,234 postal workers who have tested positive and 847 employees who have been presumed to be positive for a total of 2,081 infected employees.  The number of Mail Handlers who tested positive is 142.  Unfortunately, 46 postal workers have died as a result of COVID-19, including 3 Mail Handlers, although it is uncertain if all of these employees were exposed at their postal employment.  These numbers will certainly continue to rise as the impact of the coronavirus has not yet reached its peak…. (Click here for more)
Bipartisan Group of NY Representatives Call for USPS Funding
A bipartisan group of Representatives from the New York delegation issued a letter on April 28 to House and Senate leadership, brining attention to the finaical losses the Postal Service faces due to the COVID-19 pandemic.
The letter, led by Congresswoman Carolyn Maloney (D-NY-12) and Congressman Peter King (R-NY-02), urged leadship to consider, "The coronavirus crisis is wreaking havoc on the U.S. Postal Service. Without immediate help, the Postal Service — a vital staple of American society since 1775 — could cease to function by this summer. This crisis is also affecting the State of New York more than any other. There were 287 confirmed cases of coronavirus and 14 deaths among postal workers in New York as of April 20, 2020… This is a national emergency."
New York Representatives Call for USPS Funding (pdf)
First COLA set at $166 & Wage Charts
Effective April 25, 2020, all career Mail Handler craft employees are scheduled to receive a cost-of-living (COLA) adjustment as outlined in Article 9.3 of the 2019 National Agreement.  This is the first of six possible COLA increases under the terms of the current agreement.  This COLA increase is based on the upward change in the relevant Consumer Price Index (CPI) following release of the January 2020 Index, using the July 2019 CPI index as a base provides an annual increase of $166 for all Steps in Table 1 and for Step P of Table 2.  The remaining Steps in Table 2 will receive the proportional COLA increase percentages as outlined in Article 9.3 of the National Agreement. Also effective 4/25/20 are the first set General Wage Increases. There will be retroactive adjustments made in the future. Details to follow.
Wage Charts Effective April 25, 2020
Mail Handler Update – April
MEMBERSHIP RATIFIES 2019 NATIONAL AGREEMENT
The terms of the 2019 National Agreement between the NPMHU and the U.S. Postal Service were officially ratified on April 7, 2020, when the results of the membership ratification vote were certified by the election service, True Ballot Inc. The final vote tally was 7,003 in favor of ratification and 255 in opposition, meaning that 96.49% of the voting membership voted yes on ratification.
Attention now turns to implementation of the new National Agreement. The April Update contains some additional information about the timing of some of its key provisions (text)
SUBMISSION OF PROPOSED CONSTITUTIONAL AMENDMENTS AND RESOLUTIONS
Should you have any constitutional amendments or resolutions that you would like to propose, please be sure to follow the procedures set forth in Article XII of the National Constitution. Because the opening of the National Convention is set for Tuesday, August 11, 2020, all submissions must be received at the National Office no later than Friday, June 12, 2020, which is sixty days prior to the opening of the 2020 National Convention.
Read the full article for additional details. (text)
Call to Action: Urge Congress to Save the Postal Service
USPS is facing drastic negative financial consequences due to COVID-19. The Postal Service facing decreases in revenue, and the Postmaster General reported to members of Congress USPS will run out of cash on hand by the end of the fiscal year due to projected losses of $13 billion due to COVID-19, as well as $54.3 billion in additional losses over the next decade. Adding to the stress of the situation, mail handlers and their fellow postal employees are on the front lines as essential employees. While this dedication should be revered, they deserve to be assured that the Postal Service is on a sustainable path forward and will not become another victim of the pandemic. (click here)
COVID-19 Resources
USPS Updates FFCRA Freuently Asked Questions 4-15-20
USPS Emergency Paid Sick Leave Supervisor Checklist 4-15 20
COVID-19 Updated Decision Tree 4-1-20
USPS FAQ Families First Coronavirus Response Act
Influenza & Coronavirus Cleaning Contingency (MMO)
Sadly, the NPMHU Announces the Passing of Local 307 Mail Handler, Anthony Smith
NYC Congressional Delegation Postal Service Workers Letter to Postmaster General 3-31-20
Families First Coronavirus Response Act MEMO to LPs 04022020 final CRM2
USPS Updated Criteria for Return to Work after COVID19 3-30-20
COVID-19 Testing sites and information (Note: Not for the "worried well" yet)
USPS Essential Public Service – Traveling to/from work – Stand Up Talk 3-23-20
USPS issues statement on the MOU on Liberal Changes of Schedule and Leave 3-23-20 (updated version)
Manager and supervisor COVID19 Guide FINAL CRM (002)
COVID19 – Frequently Asked Questions 3-20-20
USPS Briefs the NPMHU on Coronavirus COVID-19 3-20-20
MITIGATION MEASURES EMPLOYED AS CORONAVIRUS SPREADS
MOU – Temporary Additional Paid Leave for MHAs COVID-19
MOU – Temporary Expanded SLDC Dependent Care During COVID-19
Memo to LPs – USPS Issues Guidance on Social Gatherings
Message from the Local President regarding the current pandemic.
March 18, 2020
To: Members of NPMHU Local 300
RE: COVID-19 Update
These are trying times for us. We are literally at War with an enemy we cannot see. All of us are on the front lines of this War. Mail Handlers have been through other challenging times (9/11, Anthrax, bombs in the mail, etc.) The Coronavirus is a serious threat to us, we all have to vigilant and remain calm, adjusting to this "new normal."
On the national level, the NPMHU has been meeting with the USPS – Postmaster General and senior postal officers on a continual basis.
As of today, USPS employees that have tested positive nationwide:
2 – Seattle, WA (Clerk/MH)
2 – Westchester P&DC (EAS)
1 – Raleigh, NC
1 – White Plains, NY Post Office 1 – Manhattan (MVO)
2 – NY District (Postal Police)
There are approximately 150 USPS employees on self-quarantine by the Center for Disease Control (CDC), US Department of Health & Human Services (HHS), or other medical professionals.
These numbers will increase as the number of people tested increase with more testing being finally made available.
On the local level, since the evening of Saturday March 14, 2020 – I have been having daily constant contact with the USPS on the NE Area, District(s) and
installation levels. Tom Ruther our NPMHU NE Regional Director has been providing direct updates to Local 300 on a daily basis.
The USPS is not the lead agency during this pandemic. They are to follow the recommendations of the CDC and HHS. Below is a summary of the USPS Policy for COVID-19
Employees returning from a "LEVEL 3" country or a cruise that visited a "LEVEL 3" country or had a confirmed positive test of another passenger, will be told to self-quarantine and paid Administrative Leave for 14 days.
Employees who were in "close contact" – defined right now as within 6 feet or closer for 10 minutes or more – with someone who tested positive with COVID- 19, will be told to self-quarantine and paid Administrative Leave for 14 days. Note the definition of close contact has been changing during this fluid time.
If employees develop symptoms of COVID-19 while on the 14-day self- quarantine, their leave will be changed from Administrative Leave to Sick Leave.
If employee tests positive for COVID-19, they must remain out of work for at least 14 days and only allowed to return to work with a medical certification for work clearance.
Postal Service buildings should be cleaned on regular basis on touch surfaces (door handles, mail processing equipment consoles, etc…)
Gloves, masks, hand sanitizer should be available for employees. -Sanitizing wipes are in short supply. Many locations are making a cleaning solution with alcohol and wiping the commonly touched areas.
All employees should be receiving regular stand-up talks from USPS management. If you are not, please notify a shop steward immediately.
We all need to practice SOCIAL DISTANCING. Keep 6 feet apart at all times. We have asked for stand up talks to be given to limited number of employees at a time, no huddling together for the talks. The USPS will be giving a stand-up talk on Social Gatherings.
PLEASE, IF YOU FEEL SICK, STAY HOME!
The USPS has now instituted a 'liberal leave policy.' Absences taken during this pandemic should not be used in future discipline. It is a matter of choice to come to work if you don't feel comfortable commuting to work or at work. You should not feel 'bullied' by management to come to work or them try to hold you at work. Sick leave, annual leave, LWOP should be approved consistent with USPS leave regulations & documentation requirements. You still have to call to report your absences.
School & Daycare Closings – parents can use up to 80 hours of Sick Leave for Dependent Care (SLDC) for unexpected childcare needs. A national Memorandum Of Understating (MOU) was just signed today to reflect this change. The USPS said they would approve changes of schedule to the fullest extent possible.
The NPMHU National HQ was looking to get special leave available for MHAs. MHAs do not accrue leave in the same manner as FTRs. They are not eligible for paid sick leave or paid administrative leave. Also occurring today, a national MOU was signed giving MHAs up to 80 hours of paid leave for use in conjunction with the COVID-19 pandemic.
The National office of the NPMHU is located in AFL-CIO Headquarters in Washington, DC. The building will be closed for 2 weeks. The national officers, contract administration department, and staff will be working remotely to the fullest extent possible. Phone calls will be forwarded to the remote locations.
The counting of the ballots for the 2019 National Agreement will be delayed. The ballots have been locked and secured. They shall be counted in the near future.
Local 300 Headquarters located in NYC is open. The officers and staff are available. If we cannot answer the phone when you call, we will get back to you.
All around Local 300, we have been enforcing the enhanced cleaning procedures and constantly checking to ensure management is providing masks, gloves, and hand sanitizer. Wipes have been in short supply. Please wash your hands frequently, wear gloves. Ask your supervisor for gloves or a mask. If these or hand sanitizer is unavailable request a shop steward.
On Saturday night, the 'new normal' started. I was notified of 2 EAS employees testing positive for COVID-19 at Westchester P&DC. The 2 employees did not work since 3/4/20 & 3/6/20 respectively. Other employees that had 'close contact' were told not to work and put on mandatory self-quarantine for 14 days. We faced initial resistance when we demanded the facility be closed for deep cleaning and sanitization. The Union was successful. An outside contractor was brought in. The installation was closed for 24 hours for this to occur. I visited the Westchester P&DC on yesterday. It was good to see the members and they were in good spirits.
The contract will be enforced to the fullest extent during this time. USPS leaders on the national, NE Area, and district levels have given us assurances that contractual provisions and procedures will be followed. However, as history dictates, there are many supervisors and managers that do not! If you have an concerns at all, speak with a shop steward, Branch President, or contact Local 300 HQ.
Attendance in each location is becoming a problem. Each location is short staffed. The USPS is looking to hire additional employees. Most locations have open overtime opportunities. Please work safe and perform the functions of one person, not the work of 2 or more.
We are working with the USPS to get even more cleaning done in all locations. Please don't pay attention to rumors, especially on social media.
The USPS is a vital essential service for the country. We ensure the communication network for the nation – Packages need to be delivered – Medicines need to be received. I am very proud of each and every one of you. Keep up the great work providing this essential service for our country. We are expecting a parcel increase since most products are only available online due to store closures. Now is the time for us Mail Handlers to shine. You are a Hidden Hero of the Postal Service. It would take a Presidential order to shut down the USPS. Even though he has no passion for the USPS, I wouldn't expect that to occur.
We will provide periodic updates on our official NPMHU Local 300 website atwww.local300npmhu.org – our smartphone app, and postings on Union bulletin boards.
Fraternally,
Kevin Tabarus, President, NPMHU Local 300
BE SAFE!
National Postal Mail Handlers Union and the USPS reach a tentative agreement.
After months of intense negotiations, the Mail Handlers Union and the USPS have agreed to a tentative agreement. This agreement will have to be approved by the rank and file before any of the terms can go into effect. All members will be receiving a summary of the agreement along with a ballot in order to vote.
final-Summary-of-2019-National-Agreement
Local 300 has moved! Right behind the Empire State Building.
We have finally completed the move. A project which was begun in 2015, has reached fruition. Please come by and pay your HQ a visit.
20 W 33rd Street,  Suite 8A New York, NY 10001.
NPMHU Local 300 – Smartphone APP now in Apple APP STORE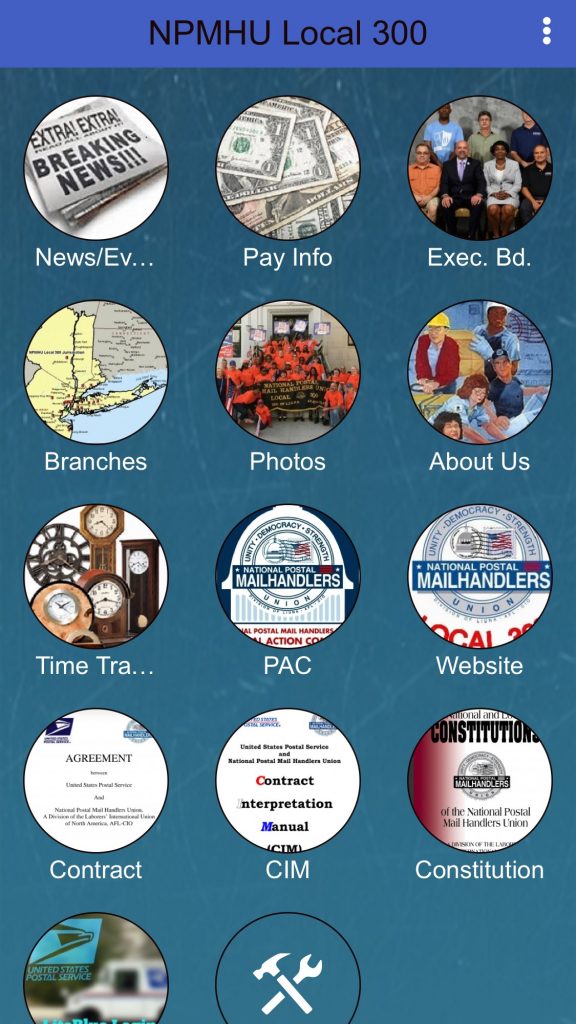 Local 300 is proud to have completed a smartphone application, only for the members of the National Postal Mail Handlers Union Local 300. We are the first & only NPMHU Local Union in the nation that has developed a smartphone app for its members. The app is available for download to all Local 300 Members via the Google App store, or the Apple App store (NPMHU Local 300). The app will send 'push notifications' on breaking news, events, contract information, salary increases, etc. It also contains many other useful resources, such as the National Contract, Contract Interpretation Manual (CIM), etc. To download this member-only app, click on the link for android users:     Google App Store   for iPhone users  APPLE STORE
Or search the Google or Apple APP Store "NPMHU Local 300"
The process for the app download is as follows:
1. Download the app via your iPhone or Android device.
2. Signup as a new user to the app. (Complete all fields)
3. You will first be sent an automatic 'verification code' to your email this is verification of your email, and does not give you access to the app.
4. After you enter the code into the app you will be sent an email advising you that have been approved, but pending membership verification. Be aware that you will not have automatic access to the app until we verify that you are a member of Local 300.
5. After the verification of your membership, you will receive a final email message indicating that you are approved. Log in, enter your password and start using the app.