National Postal Mail Handlers Union and the USPS reach a tentative agreement.
After months of intense negotiations, the Mail Handlers Union and the USPS have agreed to a tentative agreement. This agreement will have to be approved by the rank and file before any of the terms can go into effect. All members will be receiving a summary of the agreement along with a ballot in order to vote.
final-Summary-of-2019-National-Agreement
NOMINATIONS MEETING – NPMHU 2020 Convention – Delegate Election
This is to advise all members in good standing that on January, 7th 2020 a meeting of Local 300, of the National Postal Mail Handlers Union, will be held at the time and place set forth below for the purpose of nominating candidates to serve as delegates to the 2020 NPMHU National Convention, to be held at the Hyatt Regency Convention Center & Hotel in Denver Colorado from Tuesday, August 11 through Saturday August 15, 2020. The Local Union Council has already determined that Local 300 will be sending a total of 40 delegates to the Convention, including the Local President who is an automatic delegate, and therefore Local 300 will be conducting an election to choose an additional 39 delegates to the Convention.
If you are unable to attend the Nominations Meeting, you must send your NOMINATIONS VIA REGISTERED, CERTIFIED OR EXPRESS MAIL to: Judges of the 2020 Delegate Election, P.O Box 7098, James A Farley, New York, NY 10116-7098. Mailed nominations must be received prior to the Nominations Meeting.
Nominations made in advance of the Nominations Meeting by other methods, such as regular mail, facsimile, or hand delivery, will not be accepted.
After the nominations have been completed, the Judges shall determine whether or not each nominee possesses all of the qualifications for serving as a delegate. Any member wishing to protest the eligibility of a nominee must communicate his/her objections to the Judges as soon as possible, but in no case later than five (5) days after the nominations.
The date, time, and place of the Nominations Meeting will be:
DATE OF NOMINATIONS MEETING: Tuesday January 7th, 2020
TIME OF NOMINATIONS MEETING: 10am-12pm
PLACE OF NOMINATIONS MEETING:  20 West 33rd Street Suite 8A NY, NY 10001-3003
NPMHU ARTHUR S. VALLONE
NATIONAL SCHOLARSHIP PROGRAM
2020-2021 SCHOOL YEAR
The National Postal Mail Handlers Union is pleased to offer the opportunity for regular craft members of the National Postal Mail Handlers Union, and members of their immediate families, to apply for scholarship assistance from the NPMHU Arthur S. Vallone National Scholarship Program.  Specific eligibility requirements for the program are detailed below.
This scholarship program has been providing assistance to deserving recipients since 2001.  In February 2005, the program was renamed in honor of Arthur S. Vallone.  Arthur had served the NPMHU with distinction for over twenty-five years at his untimely passing in January 2005.  Arthur was a true believer in the Union Movement, and a tireless advocate for Mail Handlers and all working people.  His list of accomplishments and contributions to the NPMHU is lengthy.  The National Postal Mail Handlers Union is proud to honor the legacy that Brother Vallone has left behind.
The purpose of the National Postal Mail Handlers Union Arthur S. Vallone Scholarship Program is to provide financial assistance to Mail Handlers and/or their family members who are seeking to further their education beyond high school.  The program will award a minimum of 15 scholarships (3 per Region) in the annual amount of at least $1,000, renewable for up to four (4) years or until the completion of the undergraduate degree, whichever occurs first (for a maximum of $4,000 per recipient over 4 years).  Additional scholarships may be awarded, depending upon the number of applicants and the number of renewals each year.
Scholarship eligibility details and application instructions are now available. Applicants must submit complete applications and the related materials listed at the link below to the Scholarship Committee on or before March 15, 2020.
Scholarship-Application-F2-2020-2021-vallone
Local 300 has moved! Right behind the Empire State Building.
We have finally completed the move. A project which was begun in 2015, has reached fruition. Please come by and pay your HQ a visit.
20 W 33rd ST Suite 8A New York, NY 10001.
September COLA at $624.
The last cost of living allowance under our current contract will go into effect August 31st 2019. The yearly total is $624 for those mail handlers at top step.
Local 300 Breast Cancer Awareness T Shirts
Local 300 once again will be cosponsoring the Breast Cancer Awareness T shirts with a donation for each shirt purchased going to the fight for a cure on breast cancer. T shirts can be purchased for $10 each, members only. Sizes range from Small to 4XL. See your shop steward to place your order. Last day to purchase a t shirt is September 27th 2019.
2019 breast cancer awareness flyer
Local 300 Scholarship Winners announced!
The 5 winners of the Local 300 2019 Bernard Holloway, John A Orchard, Edward J Miller, Wally Merwin, and Aaron Preston Memorial Scholarship have been selected. Each winner will receive $1000 for study at an accredited college, university, or trade school.
WOUNDED WARRIOR LEAVE The USPS has recently expanded the Wounded Warrior
Leave policy effective on January 5, 2019.
The Wounded Warriors Federal Leave Act of 2015 is a law that provides veterans who have a service connected disability rating of 30 percent or more with 104 hours of Wounded Warrior Leave during their first year of employment. The 104 hours of Wounded Warrior Leave is a separate category of leave in addition to any earned annual and sick leave. The leave can be used to undergo medical treatment for the service connected disability.
The USPS has decided to expand the Wounded Warrior Leave policy by providing 104 hours of Wounded Warrior Leave to veterans with a service connected disability rating of 30 percent or more at the beginning of each new leave year. Any unused Wounded Warrior Leave hours cannot be carried over into the new leave year and are lost.
ADMINISTRATIVE LEAVE
Postmaster General Megan Brennan declared Wednesday, December 5, 2018, as a Day of Mourning to commemorate the passing of former President George H. W. Bush. Postal facilities were either closed or personnel were allowed future administrative leave of one day.
The question is: How long do I have to use this administrative leave?
Must be granted and used within 6 months of the national day of observance or by the end of the fiscal year, whichever is later.
100 Year History of the Labor Movement in this country.
A Short History of American Labor
Congressman William James Pascrell JR visits DVD P&DC in Kearny, NJ

Congressman William James Pascrell JR takes time from his busy schedule to visit the Dominick V Daniels Processing and Distribution Center in Kearny NJ. Above from left to right: Local 300 President Kevin Tabarus, Congress William James Pascrell JR, Local 300 NJ State Representative Terry Flynn, and Local 300 Recording Secretary and DVD Branch President Ray Bermudez.  The Congressman represents parts of Passaic, Bergen, and Hudson counties in NJ's 9th Congressional District.
NPMHU Local 300 – Smartphone APP now in Apple APP STORE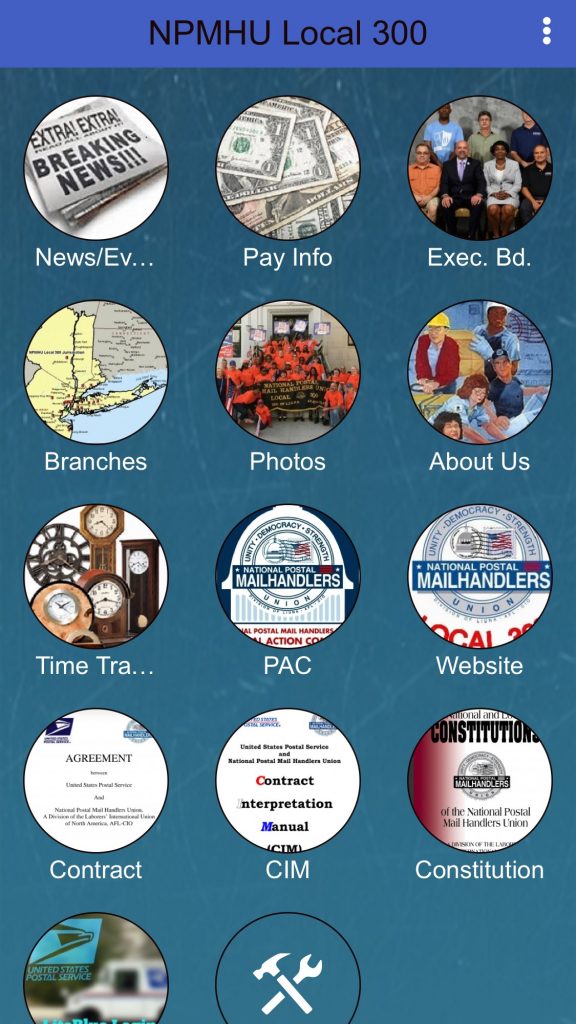 Local 300 is proud to have completed a smartphone application, only for the members of the National Postal Mail Handlers Union Local 300. We are the first & only NPMHU Local Union in the nation that has developed a smartphone app for its members. The app is available for download to all Local 300 Members via the Google App store, or the Apple App store (NPMHU Local 300). The app will send 'push notifications' on breaking news, events, contract information, salary increases, etc. It also contains many other useful resources, such as the National Contract, Contract Interpretation Manual (CIM), etc. To download this member-only app, click on the link for android users:     Google App Store   for iPhone users  APPLE STORE
Or search the Google or Apple APP Store "NPMHU Local 300"
The process for the app download is as follows:
1. Download the app via your iPhone or Android device.
2. Signup as a new user to the app. (Complete all fields)
3. You will first be sent an automatic 'verification code' to your email this is verification of your email, and does not give you access to the app.
4. After you enter the code into the app you will be sent an email advising you that have been approved, but pending membership verification. Be aware that you will not have automatic access to the app until we verify that you are a member of Local 300.
5. After the verification of your membership, you will receive a final email message indicating that you are approved. Log in, enter your password and start using the app.