Labor Day Parade
Local 300 will once again be marching in the Labor Day Parade celebrating and honoring the labor movement. All members, their families, and friends are invited to join us in the march on September 7th 2019. Join us!
Local 300 NY Jets outing
Local 300 is once again sponsoring a trip for our members to go and see the NY Jets on opening day. Gang Green will be hosting the Buffalo Bills at Met Life Stadium on September 8th 2019. The tickets will cost the member $40 each. These tickets are first come first sold, so don't wait. They will sell out fast.
New York State Executive Board Member -Officer Vacancy
NYSEBM-Stan Howard has informed Local 300's Executive Board of his resignation from the position of New York State Executive Board Member effective on or about September 3rd 2019. This resignation is due to Stan Howard's retirement from the USPS. We thank Stan for his years of serving this officer position and decades of service to this Union.
Six Flags Great Adventure 4th Annual Friends and Family Day
Local 300 is pleased to announce that we are again conducting our annual friends and family day on August 17th 2019 at Six Flags Great Adventure in NJ. This event has been a tremendous success in the last 3 years and we know that this year will be another home run! The price has been maintained at $40 per person which includes single day admission to Six Flags Great Adventure, Safari off road adventure, parking voucher, and meal ticket for an all you can eat buffet! What a deal! Purchase you tickets early because its first come, first sold, and there is a limit.
2019 Local300-MailHandlers Union great adventure
WOUNDED WARRIOR LEAVE The USPS has recently expanded the Wounded Warrior
Leave policy effective on January 5, 2019.
The Wounded Warriors Federal Leave Act of 2015 is a law that provides veterans who have a service connected disability rating of 30 percent or more with 104 hours of Wounded Warrior Leave during their first year of employment. The 104 hours of Wounded Warrior Leave is a separate category of leave in addition to any earned annual and sick leave. The leave can be used to undergo medical treatment for the service connected disability.
The USPS has decided to expand the Wounded Warrior Leave policy by providing 104 hours of Wounded Warrior Leave to veterans with a service connected disability rating of 30 percent or more at the beginning of each new leave year. Any unused Wounded Warrior Leave hours cannot be carried over into the new leave year and are lost.
ADMINISTRATIVE LEAVE
Postmaster General Megan Brennan declared Wednesday, December 5, 2018, as a Day of Mourning to commemorate the passing of former President George H. W. Bush. Postal facilities were either closed or personnel were allowed future administrative leave of one day.
The question is: How long do I have to use this administrative leave?
Must be granted and used within 6 months of the national day of observance or by the end of the fiscal year, whichever is later.
100 Year History of the Labor Movement in this country.
A Short History of American Labor
Congressman William James Pascrell JR visits DVD P&DC in Kearny, NJ

Congressman William James Pascrell JR takes time from his busy schedule to visit the Dominick V Daniels Processing and Distribution Center in Kearny NJ. Above from left to right: Local 300 President Kevin Tabarus, Congress William James Pascrell JR, Local 300 NJ State Representative Terry Flynn, and Local 300 Recording Secretary and DVD Branch President Ray Bermudez.  The Congressman represents parts of Passaic, Bergen, and Hudson counties in NJ's 9th Congressional District.
COLA of $645 goes into effect September 1st 2018.
Effective Pay Period 19, September 01, 2018, career Mail Handler craft employees are scheduled to receive the fifth of seven possible cost-of-living (COLA) adjustments as outlined in Article 9.3 of the 2016 National Agreement.  This COLA increase is based on the upward change in the relevant Consumer Price Index (CPI) following release of the July 2019 Index, and provides an annual increase of $645 for all Steps in Table 1 and for Step P of Table 2. The remaining Steps in Table 2 will receive the proportional COLA increase percentages as outlined in Article 9.3 of the National Agreement.Effective-September-01-2018-PP-19-2018
NPMHU Local 300 – Smartphone APP now in Apple APP STORE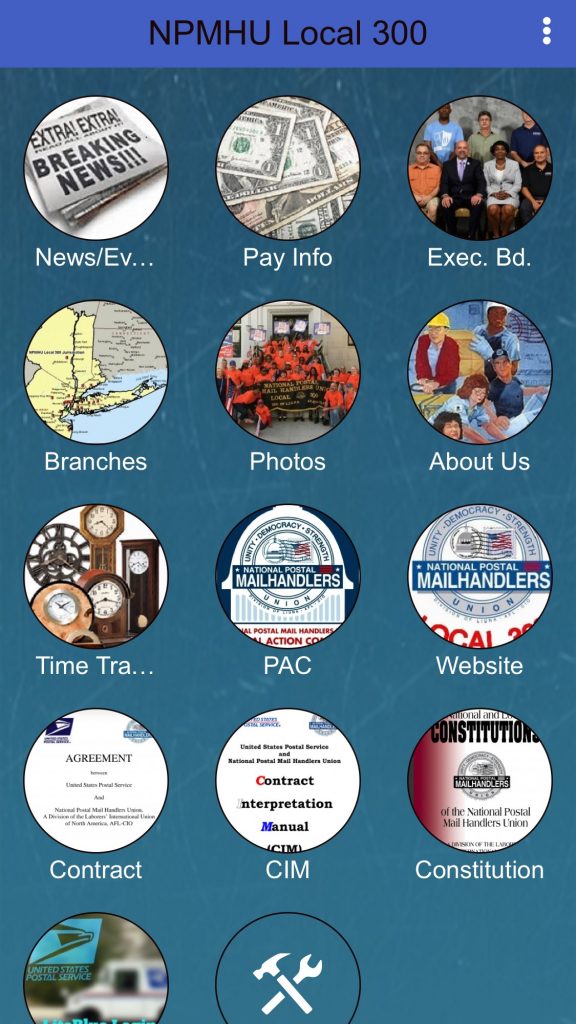 Local 300 is proud to have completed a smartphone application, only for the members of the National Postal Mail Handlers Union Local 300. We are the first & only NPMHU Local Union in the nation that has developed a smartphone app for its members. The app is available for download to all Local 300 Members via the Google App store, or the Apple App store (NPMHU Local 300). The app will send 'push notifications' on breaking news, events, contract information, salary increases, etc. It also contains many other useful resources, such as the National Contract, Contract Interpretation Manual (CIM), etc. To download this member-only app, click on the link for android users:     Google App Store   for iPhone users  APPLE STORE
Or search the Google or Apple APP Store "NPMHU Local 300"
The process for the app download is as follows:
1. Download the app via your iPhone or Android device.
2. Signup as a new user to the app. (Complete all fields)
3. You will first be sent an automatic 'verification code' to your email this is verification of your email, and does not give you access to the app.
4. After you enter the code into the app you will be sent an email advising you that have been approved, but pending membership verification. Be aware that you will not have automatic access to the app until we verify that you are a member of Local 300.
5. After the verification of your membership, you will receive a final email message indicating that you are approved. Log in, enter your password and start using the app.