COVID-19 Resources
COVID-19 Testing sites and information (Note: Not for the "worried well" yet)
COVID-19 Testing sites and information (Note: Not for the "worried well" yet)
USPS Essential Public Service – Traveling to/from work – Stand Up Talk 3-23-20
USPS issues statement on the MOU on Liberal Changes of Schedule and Leave 3-23-20 (updated version)
Manager and supervisor COVID19 Guide FINAL CRM (002)
COVID19 – Frequently Asked Questions 3-20-20
USPS Briefs the NPMHU on Coronavirus COVID-19 3-20-20
MITIGATION MEASURES EMPLOYED AS CORONAVIRUS SPREADS
MOU – Temporary Additional Paid Leave for MHAs COVID-19
MOU – Temporary Expanded SLDC Dependent Care During COVID-19
Memo to LPs – USPS Issues Guidance on Social Gatherings
Message from the Local President regarding the current pandemic.
March 18, 2020
To: Members of NPMHU Local 300
RE: COVID-19 Update
These are trying times for us. We are literally at War with an enemy we cannot see. All of us are on the front lines of this War. Mail Handlers have been through other challenging times (9/11, Anthrax, bombs in the mail, etc.) The Coronavirus is a serious threat to us, we all have to vigilant and remain calm, adjusting to this "new normal."
On the national level, the NPMHU has been meeting with the USPS – Postmaster General and senior postal officers on a continual basis.
As of today, USPS employees that have tested positive nationwide: 2 – Seattle, WA (Clerk/MH)
2 – Westchester P&DC (EAS)
1 – Raleigh, NC
1 – White Plains, NY Post Office 1 – Manhattan (MVO)
2 – NY District (Postal Police)
There are approximately 150 USPS employees on self-quarantine by the Center for Disease Control (CDC), US Department of Health & Human Services (HHS), or other medical professionals.
These numbers will increase as the number of people tested increase with more testing being finally made available.
On the local level, since the evening of Saturday March 14, 2020 – I have been having daily constant contact with the USPS on the NE Area, District(s) and
installation levels. Tom Ruther our NPMHU NE Regional Director has been providing direct updates to Local 300 on a daily basis.
The USPS is not the lead agency during this pandemic. They are to follow the recommendations of the CDC and HHS. Below is a summary of the USPS Policy for COVID-19
Employees returning from a "LEVEL 3" country or a cruise that visited a "LEVEL 3" country or had a confirmed positive test of another passenger, will be told to self-quarantine and paid Administrative Leave for 14 days.
Employees who were in "close contact" – defined right now as within 6 feet or closer for 10 minutes or more – with someone who tested positive with COVID- 19, will be told to self-quarantine and paid Administrative Leave for 14 days. Note the definition of close contact has been changing during this fluid time.
If employees develop symptoms of COVID-19 while on the 14-day self- quarantine, their leave will be changed from Administrative Leave to Sick Leave.
If employee tests positive for COVID-19, they must remain out of work for at least 14 days and only allowed to return to work with a medical certification for work clearance.
Postal Service buildings should be cleaned on regular basis – every 2 hours – on touch surfaces (door handles, mail processing equipment consoles, etc…)
Gloves, masks, hand sanitizer should be available for employees. -Sanitizing wipes are in short supply. Many locations are making a cleaning solution with alcohol and wiping the commonly touched areas.
All employees should be receiving regular stand-up talks from USPS management. If you are not, please notify a shop steward immediately.
We all need to practice SOCIAL DISTANCING. Keep 3 to 6 feet apart at all times. We have asked for stand up talks to be given to limited number of employees at a time, no huddling together for the talks. The USPS will be giving a stand-up talk on Social Gatherings.
PLEASE, IF YOU FEEL SICK, STAY HOME!
The USPS has now instituted a 'liberal leave policy.' Absences taken during this pandemic should not be used in future discipline. It is a matter of choice to come to work if you don't feel comfortable commuting to work or at work. You should not feel 'bullied' by management to come to work or them try to hold you at work. Sick leave, annual leave, LWOP should be approved consistent with USPS leave regulations & documentation requirements. You still have to call to report your absences.
School & Daycare Closings – parents can use up to 80 hours of Sick Leave for Dependent Care (SLDC) for unexpected childcare needs. A national Memorandum Of Understating (MOU) was just signed today to reflect this change. The USPS said they would approve changes of schedule to the fullest extent possible.
The NPMHU National HQ was looking to get special leave available for MHAs. MHAs do not accrue leave in the same manner as FTRs. They are not eligible for paid sick leave or paid administrative leave. Also occurring today, a national MOU was signed giving MHAs up to 80 hours of paid leave for use in conjunction with the COVID-19 pandemic.
The National office of the NPMHU is located in AFL-CIO Headquarters in Washington, DC. The building will be closed for 2 weeks. The national officers, contract administration department, and staff will be working remotely to the fullest extent possible. Phone calls will be forwarded to the remote locations.
The counting of the ballots for the 2019 National Agreement will be delayed. The ballots have been locked and secured. They shall be counted in the near future.
Local 300 Headquarters located in NYC is open. The officers and staff are available. If we cannot answer the phone when you call, we will get back to you.
All around Local 300, we have been enforcing the enhanced cleaning procedures and constantly checking to ensure management is providing masks, gloves, and hand sanitizer. Wipes have been in short supply. Please wash your hands frequently, wear gloves. Ask your supervisor for gloves or a mask. If these or hand sanitizer is unavailable request a shop steward.
On Saturday night, the 'new normal' started. I was notified of 2 EAS employees testing positive for COVID-19 at Westchester P&DC. The 2 employees did not work since 3/4/20 & 3/6/20 respectively. Other employees that had 'close contact' were told not to work and put on mandatory self-quarantine for 14 days. We faced initial resistance when we demanded the facility be closed for deep cleaning and sanitization. The Union was successful. An outside contractor was brought in. The installation was closed for 24 hours for this to occur. I visited the Westchester P&DC on yesterday. It was good to see the members and they were in good spirits.
The contract will be enforced to the fullest extent during this time. USPS leaders on the national, NE Area, and district levels have given us assurances that contractual provisions and procedures will be followed. However, as history dictates, there are many supervisors and managers that do not! If you have an concerns at all, speak with a shop steward, Branch President, or contact Local 300 HQ.
Attendance in each location is becoming a problem. Each location is short staffed. The USPS is looking to hire additional employees. Most locations have open overtime opportunities. Please work safe and perform the functions of one person, not the work of 2 or more.
We are working with the USPS to get even more cleaning done in all locations. Please don't pay attention to rumors, especially on social media.
The USPS is a vital essential service for the country. We ensure the communication network for the nation – Packages need to be delivered – Medicines need to be received. I am very proud of each and every one of you. Keep up the great work providing this essential service for our country. We are expecting a parcel increase since most products are only available online due to store closures. Now is the time for us Mail Handlers to shine. You are a Hidden Hero of the Postal Service. It would take a Presidential order to shut down the USPS. Even though he has no passion for the USPS, I wouldn't expect that to occur.
We will provide periodic updates on our official NPMHU Local 300 website atwww.local300npmhu.org – our smartphone app, and postings on Union bulletin boards.
Fraternally,
Kevin Tabarus
President
NPMHU Local 300
BE SAFE!
Congresswoman Grace Meng attends Flushing Branch Meeting.

Congresswoman Grace Meng visits the Local 300 Flushing Branch meeting in Whitestone NY. The Local 300 Executive Board and Flushing Branch President memorialize the event in a photo. Left to right are: Local 300 Treasurer, Wilfredo Delgado, Flushing Branch President, Trevor Stuart, Local 300 Vice President, Marcenia Yvette Johnson, Congresswoman, Grace Meng, Local 300 NY State Representative and JFK Branch President, Lucy Lombardo, Local 300 Recording Secretary and DVD P&DC Branch President, Ray Bermudez, and Local 300 President, Kevin Tabarus.
National Postal Mail Handlers Union and the USPS reach a tentative agreement.
After months of intense negotiations, the Mail Handlers Union and the USPS have agreed to a tentative agreement. This agreement will have to be approved by the rank and file before any of the terms can go into effect. All members will be receiving a summary of the agreement along with a ballot in order to vote.
final-Summary-of-2019-National-Agreement
NOMINATIONS MEETING – NPMHU 2020 Convention – Delegate Election
This is to advise all members in good standing that on January, 7th 2020 a meeting of Local 300, of the National Postal Mail Handlers Union, will be held at the time and place set forth below for the purpose of nominating candidates to serve as delegates to the 2020 NPMHU National Convention, to be held at the Hyatt Regency Convention Center & Hotel in Denver Colorado from Tuesday, August 11 through Saturday August 15, 2020. The Local Union Council has already determined that Local 300 will be sending a total of 40 delegates to the Convention, including the Local President who is an automatic delegate, and therefore Local 300 will be conducting an election to choose an additional 39 delegates to the Convention.
If you are unable to attend the Nominations Meeting, you must send your NOMINATIONS VIA REGISTERED, CERTIFIED OR EXPRESS MAIL to: Judges of the 2020 Delegate Election, P.O Box 7098, James A Farley, New York, NY 10116-7098. Mailed nominations must be received prior to the Nominations Meeting.
Nominations made in advance of the Nominations Meeting by other methods, such as regular mail, facsimile, or hand delivery, will not be accepted.
After the nominations have been completed, the Judges shall determine whether or not each nominee possesses all of the qualifications for serving as a delegate. Any member wishing to protest the eligibility of a nominee must communicate his/her objections to the Judges as soon as possible, but in no case later than five (5) days after the nominations.
The date, time, and place of the Nominations Meeting will be:
DATE OF NOMINATIONS MEETING: Tuesday January 7th, 2020
TIME OF NOMINATIONS MEETING: 10am-12pm
PLACE OF NOMINATIONS MEETING:  20 West 33rd Street Suite 8A NY, NY 10001-3003
NPMHU ARTHUR S. VALLONE
NATIONAL SCHOLARSHIP PROGRAM
2020-2021 SCHOOL YEAR
The National Postal Mail Handlers Union is pleased to offer the opportunity for regular craft members of the National Postal Mail Handlers Union, and members of their immediate families, to apply for scholarship assistance from the NPMHU Arthur S. Vallone National Scholarship Program.  Specific eligibility requirements for the program are detailed below.
This scholarship program has been providing assistance to deserving recipients since 2001.  In February 2005, the program was renamed in honor of Arthur S. Vallone.  Arthur had served the NPMHU with distinction for over twenty-five years at his untimely passing in January 2005.  Arthur was a true believer in the Union Movement, and a tireless advocate for Mail Handlers and all working people.  His list of accomplishments and contributions to the NPMHU is lengthy.  The National Postal Mail Handlers Union is proud to honor the legacy that Brother Vallone has left behind.
The purpose of the National Postal Mail Handlers Union Arthur S. Vallone Scholarship Program is to provide financial assistance to Mail Handlers and/or their family members who are seeking to further their education beyond high school.  The program will award a minimum of 15 scholarships (3 per Region) in the annual amount of at least $1,000, renewable for up to four (4) years or until the completion of the undergraduate degree, whichever occurs first (for a maximum of $4,000 per recipient over 4 years).  Additional scholarships may be awarded, depending upon the number of applicants and the number of renewals each year.
Scholarship eligibility details and application instructions are now available. Applicants must submit complete applications and the related materials listed at the link below to the Scholarship Committee on or before March 15, 2020.
Scholarship-Application-F2-2020-2021-vallone
Local 300 has moved! Right behind the Empire State Building.
We have finally completed the move. A project which was begun in 2015, has reached fruition. Please come by and pay your HQ a visit.
20 W 33rd ST Suite 8A New York, NY 10001.
September COLA at $624.
The last cost of living allowance under our current contract will go into effect August 31st 2019. The yearly total is $624 for those mail handlers at top step.
Local 300 Breast Cancer Awareness T Shirts
Local 300 once again will be cosponsoring the Breast Cancer Awareness T shirts with a donation for each shirt purchased going to the fight for a cure on breast cancer. T shirts can be purchased for $10 each, members only. Sizes range from Small to 4XL. See your shop steward to place your order. Last day to purchase a t shirt is September 27th 2019.
2019 breast cancer awareness flyer
Local 300 Scholarship Winners announced!
The 5 winners of the Local 300 2019 Bernard Holloway, John A Orchard, Edward J Miller, Wally Merwin, and Aaron Preston Memorial Scholarship have been selected. Each winner will receive $1000 for study at an accredited college, university, or trade school.
WOUNDED WARRIOR LEAVE The USPS has recently expanded the Wounded Warrior
Leave policy effective on January 5, 2019.
The Wounded Warriors Federal Leave Act of 2015 is a law that provides veterans who have a service connected disability rating of 30 percent or more with 104 hours of Wounded Warrior Leave during their first year of employment. The 104 hours of Wounded Warrior Leave is a separate category of leave in addition to any earned annual and sick leave. The leave can be used to undergo medical treatment for the service connected disability.
The USPS has decided to expand the Wounded Warrior Leave policy by providing 104 hours of Wounded Warrior Leave to veterans with a service connected disability rating of 30 percent or more at the beginning of each new leave year. Any unused Wounded Warrior Leave hours cannot be carried over into the new leave year and are lost.
ADMINISTRATIVE LEAVE
Postmaster General Megan Brennan declared Wednesday, December 5, 2018, as a Day of Mourning to commemorate the passing of former President George H. W. Bush. Postal facilities were either closed or personnel were allowed future administrative leave of one day.
The question is: How long do I have to use this administrative leave?
Must be granted and used within 6 months of the national day of observance or by the end of the fiscal year, whichever is later.
100 Year History of the Labor Movement in this country.
A Short History of American Labor
Congressman William James Pascrell JR visits DVD P&DC in Kearny, NJ

Congressman William James Pascrell JR takes time from his busy schedule to visit the Dominick V Daniels Processing and Distribution Center in Kearny NJ. Above from left to right: Local 300 President Kevin Tabarus, Congress William James Pascrell JR, Local 300 NJ State Representative Terry Flynn, and Local 300 Recording Secretary and DVD Branch President Ray Bermudez.  The Congressman represents parts of Passaic, Bergen, and Hudson counties in NJ's 9th Congressional District.
NPMHU Local 300 – Smartphone APP now in Apple APP STORE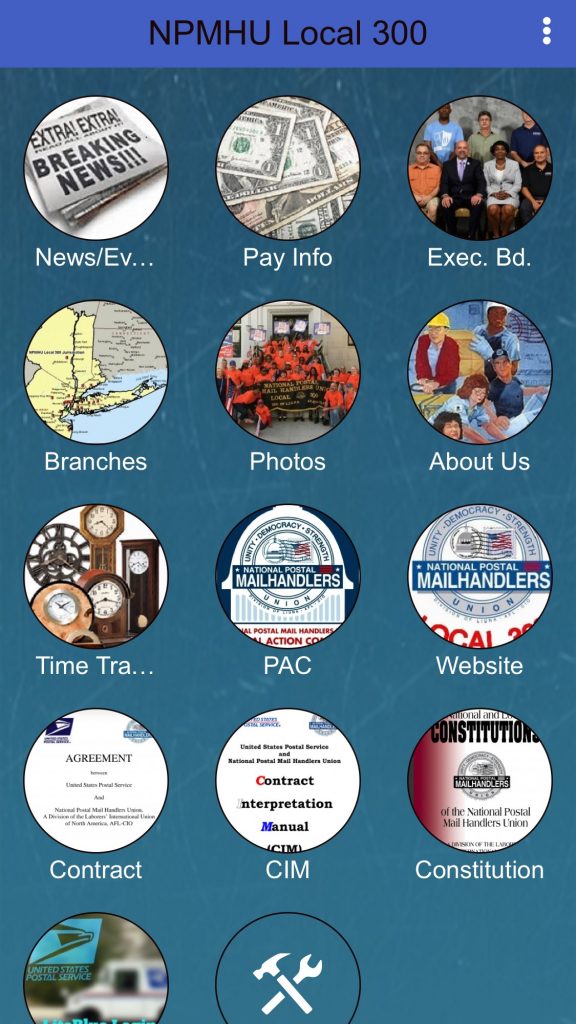 Local 300 is proud to have completed a smartphone application, only for the members of the National Postal Mail Handlers Union Local 300. We are the first & only NPMHU Local Union in the nation that has developed a smartphone app for its members. The app is available for download to all Local 300 Members via the Google App store, or the Apple App store (NPMHU Local 300). The app will send 'push notifications' on breaking news, events, contract information, salary increases, etc. It also contains many other useful resources, such as the National Contract, Contract Interpretation Manual (CIM), etc. To download this member-only app, click on the link for android users:     Google App Store   for iPhone users  APPLE STORE
Or search the Google or Apple APP Store "NPMHU Local 300"
The process for the app download is as follows:
1. Download the app via your iPhone or Android device.
2. Signup as a new user to the app. (Complete all fields)
3. You will first be sent an automatic 'verification code' to your email this is verification of your email, and does not give you access to the app.
4. After you enter the code into the app you will be sent an email advising you that have been approved, but pending membership verification. Be aware that you will not have automatic access to the app until we verify that you are a member of Local 300.
5. After the verification of your membership, you will receive a final email message indicating that you are approved. Log in, enter your password and start using the app.