Local 300 honors retiree from Western Nassau

Brother John Sieler from the Western Nassau branch, takes a photo with Local 300 President Kevin Tabarus and Western Nassau Branch President Peter Bilotta.  John retired from the USPS and we wish him the very best of everything. Kevin presents John with a watch from the National Postal Mail Handlers Union in recognition of his retirement and devotion to the Union.
Local 300 raises awareness in the fight against breast cancer.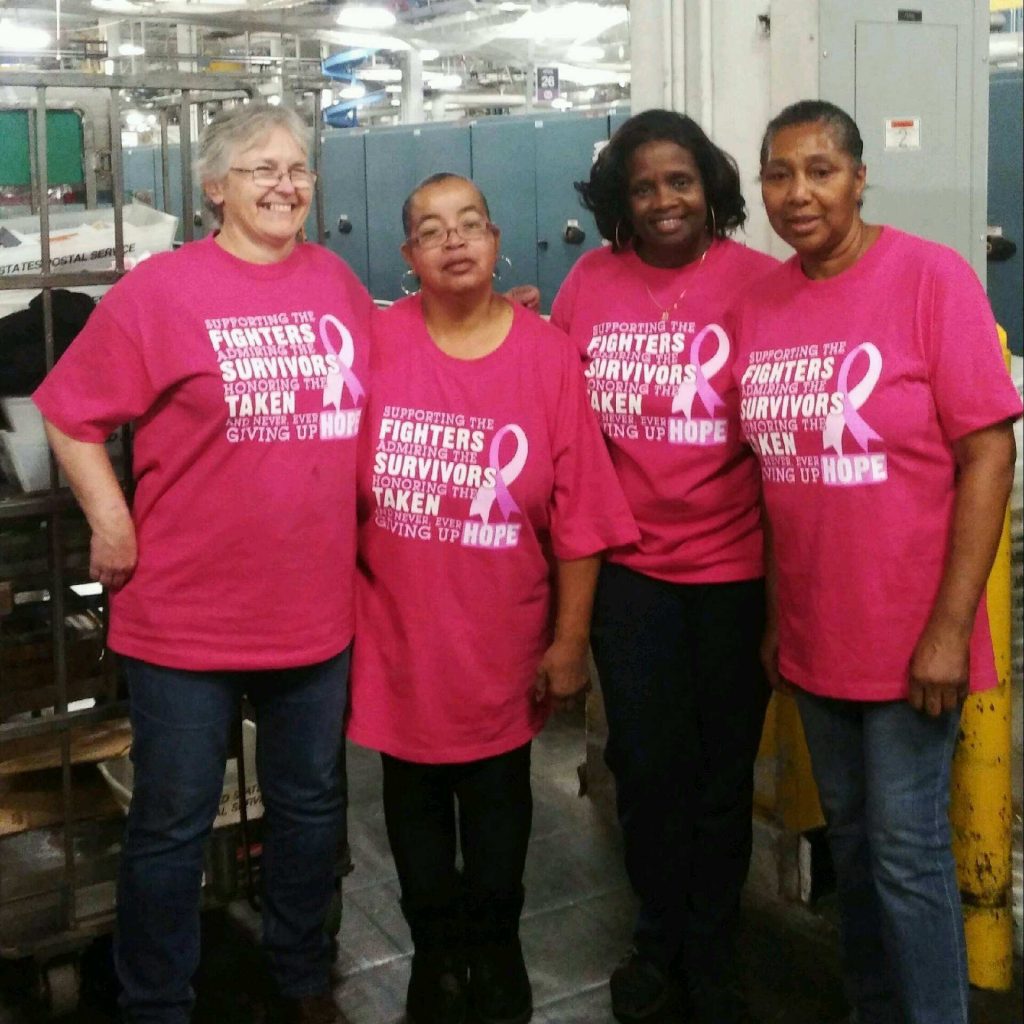 These proud ladies of Local 300 cheerfully wear their shirts supporting the awareness of fighting breast cancer. Local 300 Women's Committee championed the purchase of these shirts by the membership to continue the fight against this disease. October is Breast Cancer Awareness Month. The shirts were made available to our members for purchase with a portion of each purchase being donated to the cause.
Congressman William James Pascrell JR visits DVD P&DC in Kearny, NJ


Congressman William James Pascrell JR takes time from his busy schedule to visit the Dominick V Daniels Processing and Distribution Center in Kearny NJ. Above from left to right: Local 300 President Kevin Tabarus, Congress William James Pascrell JR, Local 300 NJ State Representative Terry Flynn, and Local 300 Recording Secretary and DVD Branch President Ray Bermudez.  The Congressman represents parts of Passaic, Bergen, and Hudson counties in NJ's 9th Congressional District.
On October 8th, tell Congress U.S. Mail is Not For Sale.  
https://www.npmhu.org/media/update/on-october-8-tell-congress-u-s-mail-is-not-for-sale
Local 300 Women's Caucus commemorates Breast Cancer Awareness. 
Local 300's Women's Caucus organized the sale of T-Shirts to bring awareness and generate contributions to the Memorial Sloan Kettering Cancer Center. T-Shirts are $10 each and range in size from S-4XL. See your Union rep to order one or more. Monies are due by October 1st. Click below to view the shirt.
Local 300 Scholarship Extended until September 26th, 2018
The Local 300 Mail Handlers Union has now extended its Scholarship Application deadline until 09/26/2018,  please see the information below for further details..
COLA of $645 goes into effect September 1st 2018.
Effective Pay Period 19, September 01, 2018, career Mail Handler craft employees are scheduled to receive the fifth of seven possible cost-of-living (COLA) adjustments as outlined in Article 9.3 of the 2016 National Agreement.  This COLA increase is based on the upward change in the relevant Consumer Price Index (CPI) following release of the July 2019 Index, and provides an annual increase of $645 for all Steps in Table 1 and for Step P of Table 2. The remaining Steps in Table 2 will receive the proportional COLA increase percentages as outlined in Article 9.3 of the National Agreement.Effective-September-01-2018-PP-19-2018


Local 300 salutes one of its own!
James Zurzola displays his watch presented to him by Local 300 CT State Representative, Don Utz and Stamford Branch President, James Smith. Brother Zurzola retired from the USPS after working 33 years at the Westport station. Brother Zurzola accepted the watch at the Stamford Branch Meeting on August 18th 2018.
NPMHU Local 300 – Smartphone APP now in Apple APP STORE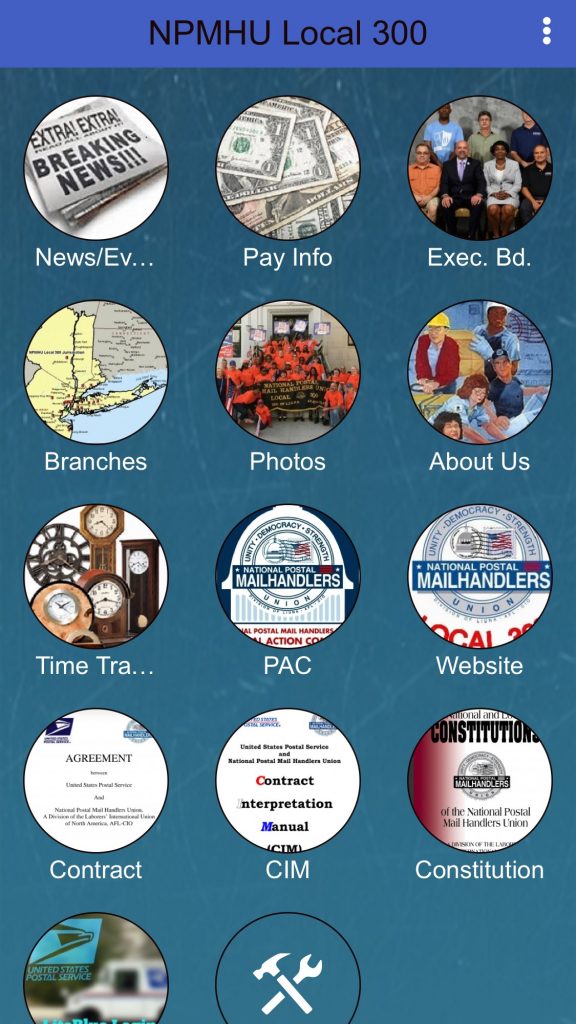 Local 300 is proud to have completed a smartphone application, only for the members of the National Postal Mail Handlers Union Local 300. We are the first & only NPMHU Local Union in the nation that has developed a smartphone app for its members. The app is available for download to all Local 300 Members via the Google App store, or the Apple App store (NPMHU Local 300). The app will send 'push notifications' on breaking news, events, contract information, salary increases, etc. It also contains many other useful resources, such as the National Contract, Contract Interpretation Manual (CIM), etc. To download this member-only app, click on the link for android users:     Google App Store   for iPhone users  APPLE STORE
Or search the Google or Apple APP Store "NPMHU Local 300"
The process for the app download is as follows:
1. Download the app via your iPhone or Android device.
2. Signup as a new user to the app. (Complete all fields)
3. You will first be sent an automatic 'verification code' to your email this is verification of your email, and does not give you access to the app.
4. After you enter the code into the app you will be sent an email advising you that have been approved, but pending membership verification. Be aware that you will not have automatic access to the app until we verify that you are a member of Local 300.
5. After the verification of your membership, you will receive a final email message indicating that you are approved. Log in, enter your password and start using the app.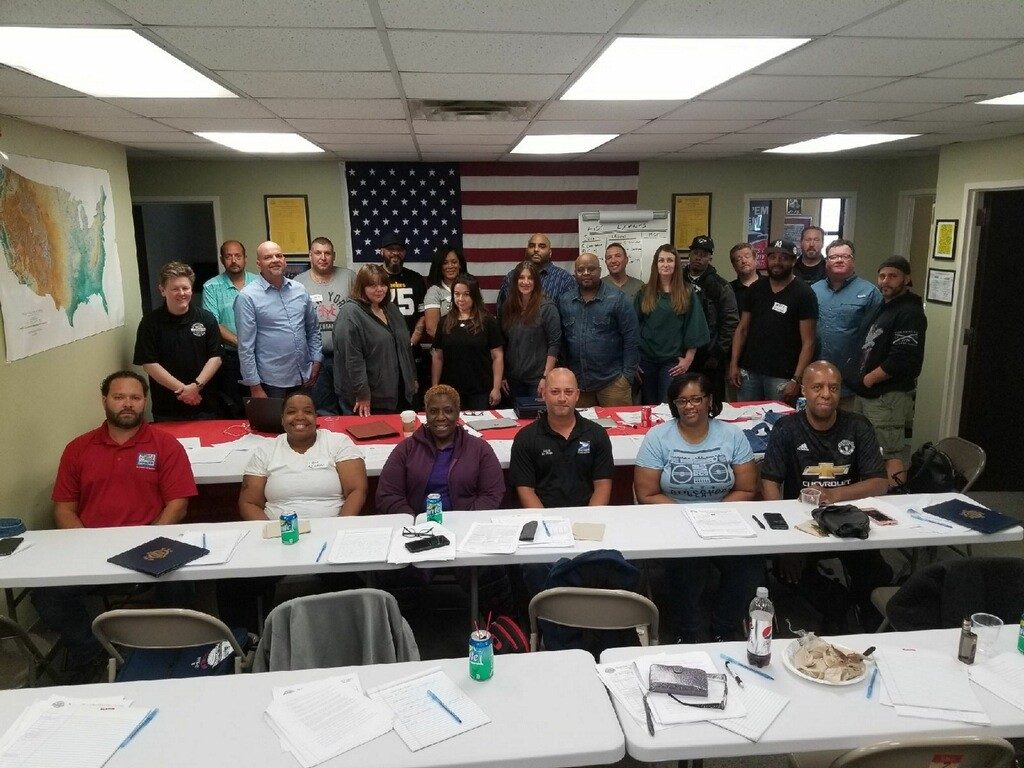 Local 300 continues with it's aggressive training programs 5/17/18
On 5/7/18 Arbitration Advocate training was held at Local 300 HQ. The training was given by NPMHU National Shop Steward Trainer John Gibson, NPMHU NE Regional Director Tom Ruther & Local 300 President Kevin Tabarus. The training was attended by:
1. Alan Sacks – Bethpage Branch President
2. Frank Schultz – Bethpage
3. Malik Sheppard – Brooklyn
4. Mike King – Brooklyn
5. Linda Gibbs – DVD
6. Michelle Draganigos – Flushing
7. Jessie Lewis – Flushing
8. Trevor Stuart – Flushing Branch President
9. Latina Crenshaw – Greater Newark Branch President
10. Latoya Davis – Greater Newark
11. Danny Danzo – ISC/JFK
12. Michelle Kimber-Sadler – NJI/NDC
13. Terry Flynn – NJI/NDC NJSEBM
14. James Smith – Stamford Branch President
15. Mark Chandler – Teterboro Branch President
16. Alberta Prieto – Westchester Branch President
17. Jonathan Vargas – Westchester
18. Nancy Simmons – Westchester
19. Bob McFall – VP Local 332
20. Edvina Tesch – BP Local 332
21. Maurice Torres – LP Local 313
22. Julio Collazo – BP Local 313


New Shop Steward Training April 4th 2018
On April 4, 2018 Local 300 conducted another aggressive training program for Shop Stewards. The training was presented by Local 300 President Kevin Tabarus, NPMHU NE Regional Vice President Dave Wilkin and NPMHU NE Regional Director Tom Ruther. Several Local 300 Officers also participated in the training: Yvette Johnson – Vice President, Wilfredo Delgado – Treasurer, Ray Bermudez – Recording Secretary.
The following mail handlers are stepping up and joining the fight to protect our membership's rights under the collective bargaining agreement:
Lakiesha Lyons Bethpage
David Basch Brooklyn
Vanessa McDaniel Greater Newark
Ursella Allen Greater Newark
Ahmad Morgan Greater Newark
David Lang Mid Island
Jose Mercado Mid Island
Sherley Champagne NJI-NDC
Johann Bullock NJI-NDC
Victor Perez-Sanchez NYC
Nancy Simmons Westchester
Dan Dreyer Riverhead
The struggle is real and the need is everywhere for all our sisters and brothers to come forward and join in solidarity.            Preserve our jobs.          Preserve our benefits.          Preserve our future.
McConnell v. U.S. Postal Service, EEOC Issues Final Decision
http://www.npmhu.org/media/news/mcconnell-v-u-s-postal-service-eeoc-issues-final-decision
Excessing Out of Installations Cancelled – Residuals Released From Withholding
Proposed excessing of Mail Handlers has been cancelled from all installations. Local 300 was able to negotiate the release of all residual duty assignments from withholding. The release of residuals will result in the conversion of MHAs to Full-Time Career Mail Handlers in those installations with residual duty assignments. This shall be in accordance with the MOU "FILLING OF RESIDUAL VACANCIES " on page 172 of the National Agreement.
Annual leave for new leave year confuses some.
Many of our members have been seeking out their stewards asking why the new annual appears short. It seems that in upgrading the system which reflects our leave, the system is now more accurately detailing the leave accrued and earned. Since pay period 2 of 2018 had already ended, we earned the annual leave for that pay period and therefore the advanced annual is for the remaining pay periods of the 2018 leave year. Example: those career FTR's with 15+ years of career service, would see 200 hours advanced instead of the 208. The other 8 hours were earned in pay period 2. The balance reflected would be accurate. Contact your steward if you have any questions.
NPMHU HQ Update: USPS Unilaterally Offers Early Retirement (VERA)
https://m.npmhu.org/media/update/january-2018
 2018 Leave Charts are here!
The Local 300 leave tracking charts have been published and received. Shipment to your branches will begin next week. Please make sure to stop at your branch union office to pick up yours. Stay on top of your leave usage, FMLA hours used, and leave accumulation. It also serves to keep a track of all that overtime the USPS has been providing us lately.