NPMHU Local 300 APP is here.
NPMHU Local 300 – Members Only Smartphone APP:
Local 300 is proud to have completed a smartphone application, only for the members of the National Postal Mail Handlers Union Local 300. We are the first & only NPMHU Local Union in the nation that has developed a smartphone app for its members. The app is available for download to all Local 300 Members via the Google App store, or the Apple App store (via a private link). The app will send 'push notifications' on breaking news, events, contract information, salary increases, etc. It also contains many other useful resources, such as the National Contract, Contract Interpretation Manual (CIM), etc.
To download this member-only app, click on the link to the Google App Store or log in to your google APP store and add NPMHU Local 300:
Google App Store QR Code:
              URL: https://play.google.com/store/apps/details?id=com.app.mturfgbjvlcxiqmkphsxjriuqysazegzwyodolwtbck
APPLE APP Store QR Code:
           URL:https://cdncloudfront.com/media/user_space/f60bed5c5ccc
The process for the app download is as follows:
1. Download the app via your iPhone or Android device.
2. Signup as a new user to the app. (Complete all fields)
3. You will first be sent an automatic 'verification code' to your email
4. After you enter the code into the app you will be sent an email advising you that have been approved, but pending membership verification. Be aware that you will not have automatic access to the app until we verify that you are a member of Local 300.
5. After the verification of your membership, you will receive a final email message indicating that you are approved. Log in, enter your password and start using the app.  NOTE: (IPhone users must allow the app as a trusted device).
2018 Leave Charts are here!
The Local 300 leave tracking charts have been published and received. Shipment to your branches will begin next week. Please make sure to stop at your branch union office to pick up yours. Stay on top of your leave usage, FMLA hours used, and leave accumulation. It also serves to keep a track of all that overtime the USPS has been providing us lately.
Grady Fitzgerald
It is with great sorrow that Local 300 reports the loss of one of our own. Grady Fitzgerald, a long and dedicated union advocate, passed on December 7th 2017. Grady was a Union steward, Branch President at the NJNDC, Regional Vice President on the NPMHU National Executive Board, and delegate to several National Conventions. Grady or "Groove" as he was known to his close and oldest friends, worked tirelessly for our members. He made his presence known and garnered tremendous respect from USPS management. We will miss you brother!
Wage increase will take effect November 25th 2017.
The second of three contractual increases will go into effect this coming Saturday. Under the terms of the 2016 National Working Agreement, career mail handlers will receive a 1.3% increase of their salary. Mail Hander Assistants will receive a 2.3% increase.  wage chart 11252017
Contract Interpretation Manual Version 4 is online!
The CIM 4 is now available online to our membership. The National CAD team worked extensively to get this latest version out and available.
https://www.npmhu.org/resources/body/CIM4-FINAL.pdf
Local 300 congratulates the winners of the 2017 Holloway, Orchard, Miller, Merwin, and Preston Memorial Scholarships.
2017 Local 300 Scholarship Awards
Come join us and march with your sisters and brothers, Union families, and friends to celebrate Labor Day to honor all working class people in this great country of ours!
Saturday, September 9th in NYC!
USPS HQ coming after our jobs!
Mail Handler's Bid Jobs are under attack!
The managers at the USPS are at it again. The misguided and non informed managers have decided that they should disrupt the craft job bids once again. Click here for, Local President letter to membership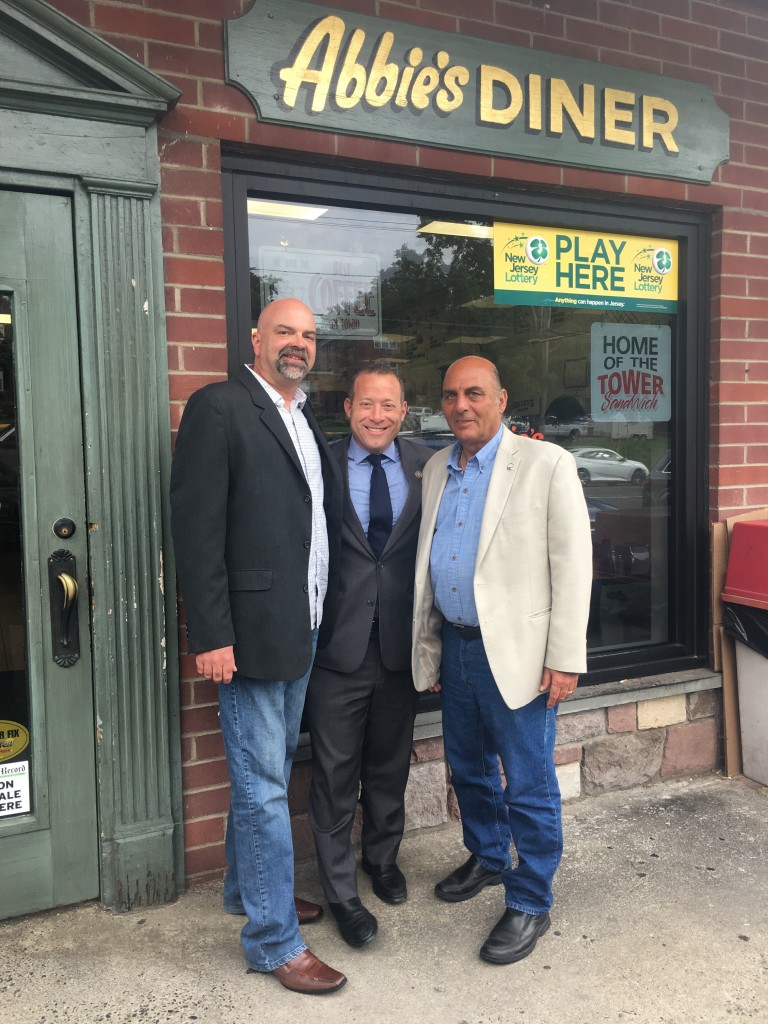 On the Jersey Side! Congressman Josh Gottenheimer takes time to meet with National President Paul Hogrogian and Local 300 President Kevin Tabarus.
Congressman Gottenheimer represents the Northern New Jersey-Bergen County constituents. He is a champion of labor and the Unions. He gets it!  Local 300 and its members appreciate having the Congressman in our corner looking out for the working class.
Local 300 President, Kevin Tabarus, meets with NY Congressman, Tom Suozzi.
NY State Congressman, Tom Souzzi, of the 3rd District North Shore Long Island takes time from his busy schedule to discuss labor matters with Local 300 President, Kevin Tabarus. Congressman Souzzi is a great friend of labor and Unions. Local 300 is proud to know him and our members know we have a man in our corner sympathetic to the working person's needs and goals.
Buyers Edge Program saves our members big time!
NATIONAL POSTAL MAIL HANDLERS UNION LOCAL 300 #2089
2016 National Agreement Retro Adjustment
We have been getting many questions lately from members regarding how and when the retroactive salary adjustments will be calculated.
The 2011-2016 National Agreement needs to be discussed first. The term of the 2011 contract was from 11/21/11 to 5/20/16. Historically, contract terms had been in November. The intent of having a longer term for the 2011 contract was to guarantee an additional COLA. There were three (3) General Wage Increases (GWI) in the 2011 contract which increased the base salary of all Mail Handlers. Each of these GWIs were paid in November. The last of which was paid in November of 2015.
The new 2016-2019 National Agreement also had an different term. The term of the 2016 contract was from 5/21/16 to 9/20/19.
Retro Adjustments – 2016 Contract

General Wage Increase (GWI) to base salary effective 11/26/16. Many are of the misconception that this increase should have been effective in May. This incorrect. As you can see from above, General Wage Increases have historically been effective annually in November. Basically, one GWI per 12 months.
COLA Effective September 3, 2016 = $21 to base salary for career Mail Handlers.

Retro Adjustments

Prior to the ratification of the 2016 Contract

Level 4, Top Step FTRs & PTRs were earning $27.03 an hour
MHAs were earning $14.71

Wage increases from 2016 Contract

Level 4, Top Step FTRs & PTRs were earning $27.36 an hour
MHAs were earning $15.12

Contract Wage increases (GWI PP25-16 11/26/16 & COLA PP19-16 9/3/16) were implimented in Pay Period 05-17 and reflected in paychecks dated 3/10/17.

Adjustments needed

COLA $21 to base salary, from 9/3/16 to 3/10/17
General Wage Increase, from 11/26/16 to 3/10/17

The amounts for each Mail Handler will vary, depending on Overtime worked, LWOP, Sunday Premium, etc.
RETROACTIVE SALARY ADJUSTMENTS

In February of 2017, USPS HQ advised NPMHU HQ that these retroactive adjustments would be paid to Mail Handlers in Pay Period 10-17, in paychecks dated 5/19/17
As of this writing, we have been advised that approximately 4,000 (approximately 9%) Mail Handlers nationwide will not receive their adjustment in Pay Period 10-17
Coincidentally, the Retroactive adjustments were also not paid when the USPS projected with the last (2011) contract. This error entirely falls on the USPS. The NPMHU will work diligently to ensure that all members receive the retroactive adjustments in its entirety.
IT IS IMPERATIVE THAT ALL MAIL HANDLERS NOTIFY THE UNION IF THEY DO NOT RECEIVE THE RETROACTIVE SALARY ADJUSTMENT. THE NATIONAL NPMHU HAS REQUESTED NAMES AND EINs. LOCAL 300 will submit the listing of those not paid to the national NPMHU office.
Paychecks for Pay Period 10-17 can be viewed now on LiteBlue http://liteblue.usps.gov/ "ePayroll"
Contact Local 300 HQ should you have any questions 212-431-0040
Local 300 Teterboro member's daughter wins Bergen County Scholarship.
Bergen County Scholarship Winner – TETERBORO 4-21-17
USPS rolls out a Safety Time Out Program.
The USPS has begun a new program aimed at preventing loss time accidents and reducing the number of injuries sustained at work. This "time out" practice involves all employees from the work area.
Safety Time Out Program 4-12-17
New National Agreement
The general effective date for the 2016 National Agreement has been established as Saturday, March 4, 2017, except as may otherwise be provided by the terms of the National Agreement.
2016-2019 NPMHU National Agreement
Click here for memo on effective dates 02232017
USPS OIG Report – High Turnover Rate of Non-Career Employees
Recently the Office of the Inspector General issued its report of the turnover rate of the new non career employees. The report clearly states that the cost of this high attrition rate is excessive and counterproductive. The OIG urges that managers implement a training program to work on retaining new employees. The chart below shows the annual turnover rate is over 42% when combined among all crafts, with carriers having the greatest rate of all. Click Here
Local 300 Celebrates Women in the Workforce
March of each year, Local 300 acknowledges the hard work and time consuming effort women have made over the years to the labor movement. Women have been "multi-tasking" long before the word became popular. Local 300 continues to applaud these women by sponsoring a commemorative button which has been delivered to all branches of the Local. We ask our members to proudly wear these buttons and join all of us in thanking these working women for their contributions.
Check out the latest issue of the Womens Caucus Newsletter here:WC Newsletter Mar 2017
Local 300 Mail Handler News Mailed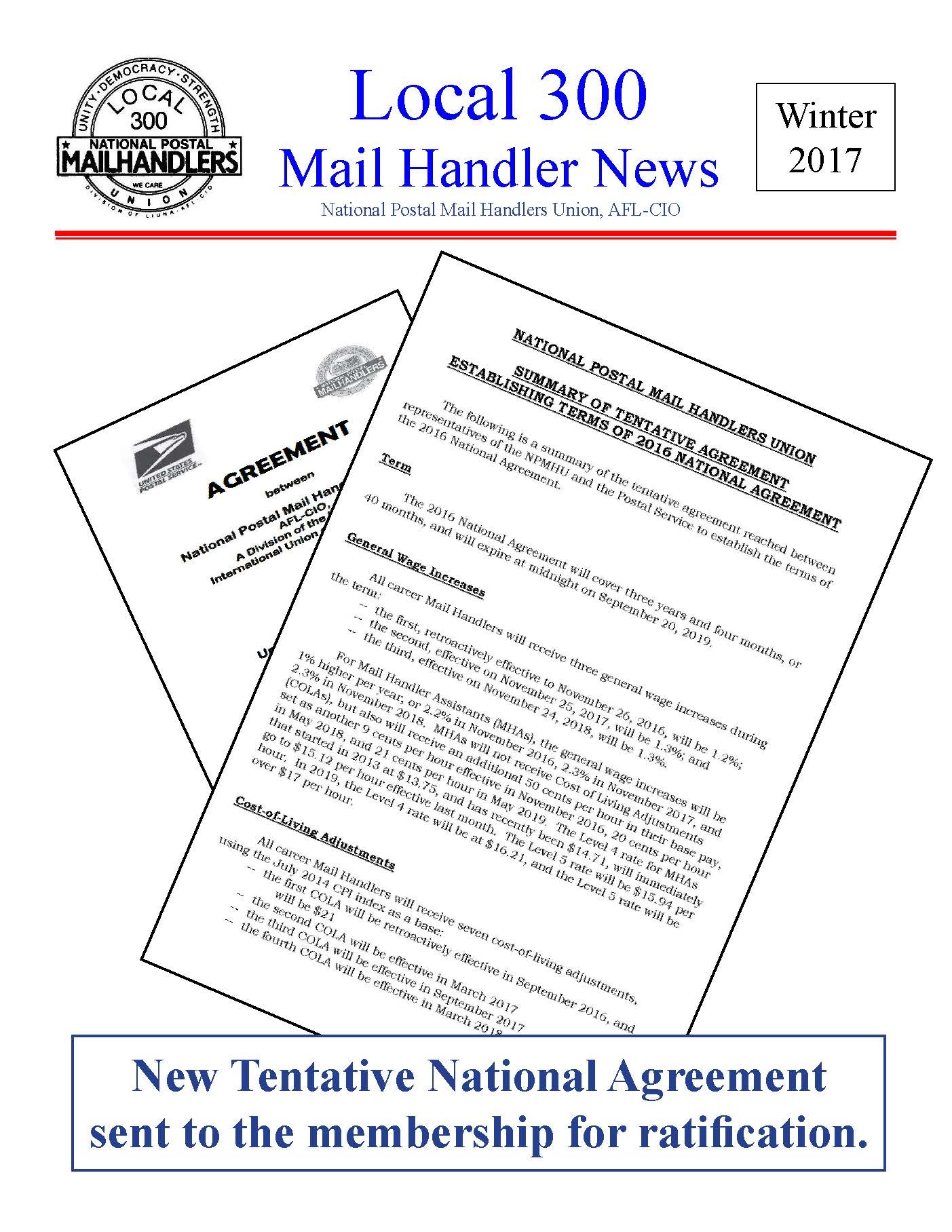 Local 300's Semi-Annual Newsletter is "in the mail". The winter 2017 edition contains many articles and pictures of Local 300 activities within the past six months.  The newsletter will strive to put forward information about past, current, and future Union work and events.
Watch your mail box and feel free to critique the new editor, (not to harshly), about the composition and material. Feedback is welcome. 2017 Winter Local 300 Newsletter
NPMHU Constitutions are in.
This is the current versions as adopted by the delegates to the National Convention this past August in Chicago Ill. Click here to view: 2016 Constitutions Booklet w covers
NPMHU Scholarship
Arthur Vallone National NPMHU Scholarship now available.
Scholarship-Application-2017-2018 vallone
Click the link below to see and hear why it is Congress that created the financial burden on the US Postal Service.
NPMHU The National Postal Mail Handlers Union Home Pagea(1)